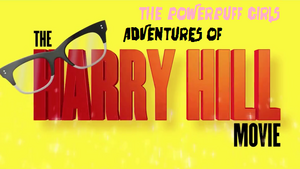 Story
When he thinks his hamster Abu has just a week to live, Harry Hill and his gran also the Powerpuff Girls and their friends take the hamster to Blackpool. However, Harry's twin Otto & Mojo Jojo wants to kidnap Abu and sends Vet Ed and Kisko to pursue them.
Stars
Heroes
The Powerpuff Girls: Blossom, Bubbles & Buttercup
The Chipmunks: Alvin, Simon & Theodore
Garfield & Odie
the Teenage Mutant Ninja Turtles: Leonardo, Donatello, Raphael & Michelangelo
Yoshino Fujieda & Lalamon
Special Guests
the Equestria Girls: Twilight Sparkle, Fluttershy, Applejack, Rarity, Rainbow Dash & Pinkie Pie
Remake
A remake is in the works as it will include new charcters from Deadpool and TMNT.
Gallery
Videos