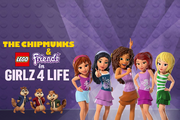 Story
Livi comes to Heartlake City for a big concert, and The Chipmunks and their five friends decide to give their latest song to her. But when Mia gives it to Megan, Livi's manager and Tanya's sister, she takes the credit for writing the song. The Chipmunks and their friends have to act quickly to get the truth out before Livi's big concert.
Friends
The Chipmunks: Alvin, Simon & Theodore
Mia, Emma Oilvia, Andrea and Stephanie
Songs
The Chipmunks - Good Time
L2M - Girlz
The Chipmunks - Iko Iko
Livi - Right Where I Belong
The Chipmunks - Party Rock Anthem
Gallery
Trailer
Ad blocker interference detected!
Wikia is a free-to-use site that makes money from advertising. We have a modified experience for viewers using ad blockers

Wikia is not accessible if you've made further modifications. Remove the custom ad blocker rule(s) and the page will load as expected.