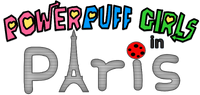 Plot
When Team Powerpuff goes to Paris with the Eds, Hawk Moth has turned Eddy into Professor Scam to destroy Paris. Now it's up to Team Powerpuff with a help from a girl named Ladybug to stop him before the city is destroyed.
Trivia
The music for the special will be from Michael Giacchino and Noam Kaniel, while the additional music will be from Patric Caird and John Debney.
Gallery
Ad blocker interference detected!
Wikia is a free-to-use site that makes money from advertising. We have a modified experience for viewers using ad blockers

Wikia is not accessible if you've made further modifications. Remove the custom ad blocker rule(s) and the page will load as expected.