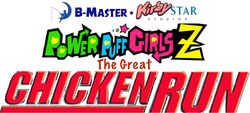 "Hatch a Plan or Pie Trying."
―Tagline
Powerpuff Girls: The Great Chicken Run is a stop-motion/animated comedy-drama film that is based on the DreamWorks and Aardman film, Chicken Run. It will be directed by Jose Ramirez and co-directed and co-written by Andrew St. Germain. The film is from KirbyStar Studios, B-Master Animation, and Aardman Animations, while it's distributed by Universal Pictures and Warner Bros. Pictures.
Plot
Team Powerpuff's latest journey has them in a chicken and smurfette farm run by the evil Tweedys and the Peacekeepers. There, they, along with hen leader Ginger, attempt to escape, but every attempt goes fowl. That is, until an American rooster named Rocky comes crashing into the farm, turning their lives upside down... or in that case, sunny side up. They have to come up with a new escape plan quickly before Mrs. Tweedy turns them all into chicken and smurfette pies, especially for the Powerpuff Girls Z and the Digidestined, whom she holds a resentment against.
Heroes
The Powerpuff Girls Z: Blossom, Bubbles & Buttercup
The Digidestined: Tai, Kari, Izzy, Sora, Mimi, Joe, Matt, and TK
Ed, Edd n Eddy
Popeye
Smurfwillow, Smurfblossom, Smurfstorm & Smurflily
Trivia
This is the 2nd Powerpuff Girls Z crossover with Aardman Animations, the first being Daniel Lawrence's The Powerpuff Girls Adventures of Wallace and Gromit in Project Zoo.
Mrs. Tweedy may affect the rest of the Powerpuff Girls Z adventures in the future, as she is the founder of an evil regime known as the Peacekeepers, who won't stop until their dreams of the extinction of the Digidestined and the Powerpuff Girls Z are realized.
This was an idea made by KirbyStarWickett, who recently grew fond of Chicken Run and wanted to make a crossover out of it.

It's also B-Master's favorite movie as well.

This film may contain elements from Escape from Planet Earth, Logan, the fifth season of Samurai Jack, and the fifth installment of Digimon Adventure Tri, Coexistence.
The music for Chicken Run will be from John Powell and Harry Gregson-Williams, while the additional music will be from Elliot Goldenthal, Heitor Pereira, and Sakabe Tsuyoshi.
Despite being filled with hilarious moments, The Great Chicken Run contains an overall darker tone for Kari on her growing anger towards Mrs. Tweedy and Team Powerpuff's heroics being put into question.
Gallery